Naval Architecture
LINES PLANS - WEIGHT CALCULATION - STRUCTURE SCANTLINGS - STABILITY - RESISTANCE - CFD - SAILPLANS - CLASSIFICATION - CONSULTANCY
'Naval Architecture' is a general name for a set of unique and highly specialised engineering skills used when designing ships. We are trained and qualified naval architects. We are proud members of the New Zealand Division of the Royal Institution of Naval Architects (RINA) and as such we take our job very seriously to uphold the dignity and reputation of the Institution, our profession and to safeguard the public interest in matters of safety and health and otherwise.
Some typical naval architecture disciplines that we offer:
Design of the hullshape (linesplan)
Resistance and propulsion - including resistance with CFD (Computational Fluid Dynamics)
Scantling calculations (dimensioning structural parts) - Including FEA (Finite Element Analysis)
Weight calculation
Hydrostatics and stability calculation (intact & damaged)
Calculation of Self Righting / Roll Over Capabilities
Calculation of Heeling due to using Cranes on vessels and barges - Checking maximum capacity of Crane lifting and reach
Tank arrangements and optimised loading conditions
Classification related issues and calculations (CE, Lloyds, BV, GL, MNZ, MOSS, Maritime New Zealand, etc)
Sailplans and rigging details (for sailing ships)
Conduction of stability tests (inclinating test)
Making of stability booklets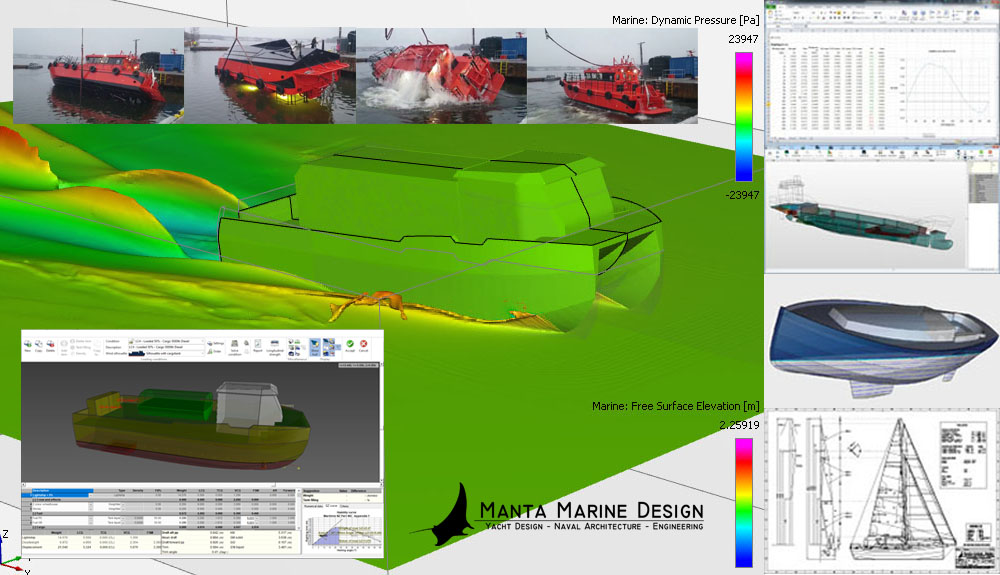 Considering that the development of a good design is a complex proces, generally the work method is defined by a 'design spiral'. All design aspects will be considered and reconsidered through an iterative proces. All these aspects greatly influence each other so this is a necessary proces to realise a well balanced final design.